Pouring an elegant tulip across a latte is a beautiful addition to your morning coffee and a benchmark achievement for budding baristas. But without the proper equipment, you'll be seriously lacking in your latte art.
The best milk frothing pitchers are specifically crafted to make frothing milk, create great micro-foam, and pour latte art as easy as possible. We've compared a few of the most notable pitchers, so you can easily decide which is the best for you.
The Best Milk Frothing Pitchers for Latte Art
Pitcher Considerations
Shape and Size
Creating thick, smooth micro-foam takes patience and a delicate hand. Without it, no latte would be correct. There isn't a chance of making high quality latte art without first having great foam. With that in mind, being able to froth milk is the number one reason to use a pitcher, so any pitcher you buy should enable you to do exactly that.
The shape and size both play a role in a milk pitcher's frothing capabilities. Some pitchers use a straight-sided build, while others rely on a bell-shaped bottom.
You can find pitchers with extra features that claim to further aid you in frothing milk for latte art, something we will see later.
Spout
A pitcher's usefulness in making rosettas, tulips, hearts and more relies greatly on its spout. You can find some models without a spout, making it difficult to draw any latte art at all. Because of that, we won't consider any spout-less pitchers.
The depth, sharpness, and width of a spout all change aspects of how they pour. You can pour more foam in a short amount of time, or you can focus on having very detailed art with a slow and sharp pour.
Overall Build
Beyond the specific features of a pitcher, its overall build makes a difference in its worth. Most are made with stainless steel, which is very important. But how thick is the steel?
Too thin and it may start to break down quickly, and you won't be able to knock out bubbles very well. Also, is the handle welded on adequately? Because a spotty welding job will mean buying a new pitcher sooner rather than later.
Design
Having a stylish pitcher shouldn't be the highest priority if you are looking for good latte art. But if you can get a classy pitcher that still does an excellent job frothing milk, or one that matches your espresso machine, why not opt for that one? Most pitchers have a stainless steel finish, but you can find some with matte covers and nice colors.
How Many Ounces in a Pitcher?
Pitchers will vary in size. Larger pitchers will hold 20oz or 600ml. This is the perfect size to froth milk for two to three people. The X-Chef Stainless Steel Creamer Frothing Pitcher is one of the larger pitchers included in our roundup.
Pitchers to Consider
Best Pitcher for Amateurs
Size: 12, 20, 32 OZ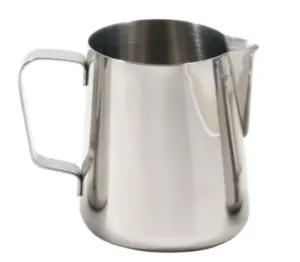 Rattleware pitchers are an excellent product for their cost. They are built to last and are designed with baristas in mind.
The straight-sided body makes for easier milk frothing, so it is a nice pitcher for beginner baristas.
A wide base means it is easy to recombine milk and foam that have separated a bit, so you can take more time setting up your espresso and angling the mug.
The spout is slightly tapered, which gives you ample control. This pitcher is nice for making detailed rosettas.
If anything, the Rattleware pitchers could have some thicker walls. You can feel the thinness when you knock a Rattleware on your counter to break up some bubbles. Don't let that put you off though, the Rattleware is a great pitcher for at home and professional use.
Rattleware pitchers come in a sleek stainless steel. There aren't extra options for colors, but the stainless steel has a clean look. It is a pitcher worth displaying on your espresso machine.

Best Pitcher for the Experienced Hand
Size: 8.5, 11.8, 17, 25.4, 33.8 OZ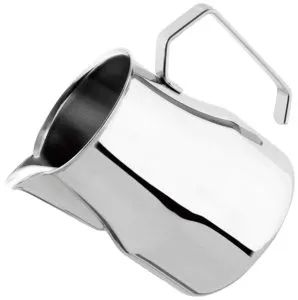 The Motta Europa pitcher is a classic in the world of coffee. Imported from Italy and developed with the Italian Barista Association, the Motta Europa is one of the highest quality of pitchers. With that quality though, comes a higher cost.
The top half of the Europa pitcher is angled, bringing the pitcher walls closer together. This feature forces the milk together while frothing, and makes for outstanding micro-foam.
Since the pitcher has a smaller diameter, it can be more difficult to recombine milk that has separated from its foam. Because of that, the Europa may be better suited for an experienced barista who won't need to recombine their milk several times.
The edge of this pitcher is rounded, which ensures you don't cut yourself when washing it. It also means pouring from the side comes out smoothly if you are making a white top cappuccino.
The spout is quite deep, but not as sharp as some other brands. The depth means you can pour very contrasted colors in your latte art, but they might not have quite the definition as the sharper spouted pitchers, like Rattleware's.
Since the spout is so long, it works wonderfully when pouring into a tall glass, allowing you to start drawing a bit earlier.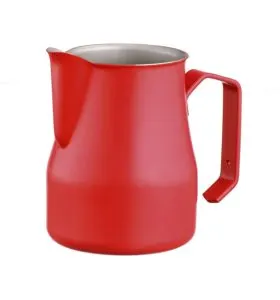 The Europa is made with thick walls and great welding. Knocking bubbles out of your milk might break your counter before anything on the Motta Europa comes loose.
The traditional Europa comes in a base stainless steel. You can also choose from a few matte colors on the outside of the pitcher, allowing you to coordinate your coffee setup colors for a fun look.

Best New Feature on a Pitcher
Size: 20, 32 OZ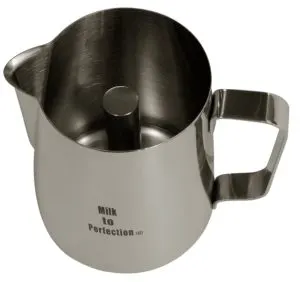 The Milk to Perfection Pitcher has a new feature that claims to help froth perfect milk. A stainless steel tube is added into the center of the pitcher, with the intent of forcing milk circulation when frothing.
The results are mixed, though some of the Amazon customer reviews claim it does a fantastic job. While circulation is a very important part of the frothing process, frothing will always take a learned hand. The Milk to Perfection Pitcher may help in making good micro-foam, but it is by no means a cure all. You will have to practice and be patient no matter which pitcher you use!
The spout has a nice, rounded, tapered cut. Art is very possible with this pitcher. It is a bit shallow, so you will have to pour nice and slow when drawing detailed latte art.
The overall build is one downside to the Milk to Perfection Pitcher. The central column makes it more difficult to clean. It creates some extra small nooks for milk to hide in, and any barista knows how much of a pain nooks are. The Milk to Perfection Pitcher comes in stainless steel.
This pitcher is a cool concept, and may very well help you get better micro-foam, but you pay for that with some small annoyances along the way.

Best Pitcher to Prevent Drips
For those with shaky hands or who tend to be rough on their equipment, the Ex Chef is a durable and fool-proof choice.
One of the coolest features is its "drip proof" spout, which ensures you won't have splashes of milk on your counter after you're done perfecting your latte art. Less cleanup is always a good thing, especially when you're still learning.
Constructed from #202 steel, this pitcher is "rust-proof, stain-proof and crash-proof, heat-proof, unbreakable by daily use." Translation: any idiot can use it, which is why it's a staple for our regular use. And did we mention it's also dishwasher safe? Check and check.
Great to make drinks for a crowd, this pitcher serves two to three milk based drinks at a time.
Overall, it's good for budding paristas, but may lack some of the finer details and precision that an expert comes to expect