Best Traditional Pot: Technivorm Moccamaster 59616 KBGThe Moccamaster is quickly becoming one of the most popular methods of home brewing. While it may look like a more complicated drip brewer, this method is more than meets the eye.
The main thing separating the Moccamaster from other brewing methods is its style of brewing. The Moccamaster uses a "pre-immersion" brewing system. This means that ground coffee is immersed in hot water prior to the beginning of the brewing process, resulting in perfectly brewed coffee.
The precise nature of this process has lead to accolades for the Moccamaster brewing system. The Moccamaster is approved and endorsed by the European brewing center, showing that this is a great way to make a terrific cup of coffee.
And in spite of its complex and scientific nature, the Moccamaster is incredibly easy to use, making it a great choice for home brewers everywhere. Read on for more Moccamaster information, along with our top picks.
Should I get a Moccamaster?
The Moccamaster is an interesting method of brewing coffee. While its specialty is precision brewing, it can also be used with the press of a button.
That makes the Moccamaster a great choice for anybody replacing their drip or automatic coffee maker.
That being said, if ritual is a significant part of your brewing experience, you may want to look elsewhere. Because the Moccamaster is so easy to use, it doesn't offer the tactile engagement of a french press, aeropress, or the pour-over method.
On top of that, the Moccamaster is a moderately large investment. While it won't break the bank like other brewing methods, you can expect to pay around $300 for a machine.
If you are interested in an easy but precise brewing method, and don't mind spending the cash, the Moccamaster can be a great choice.
Buying Guide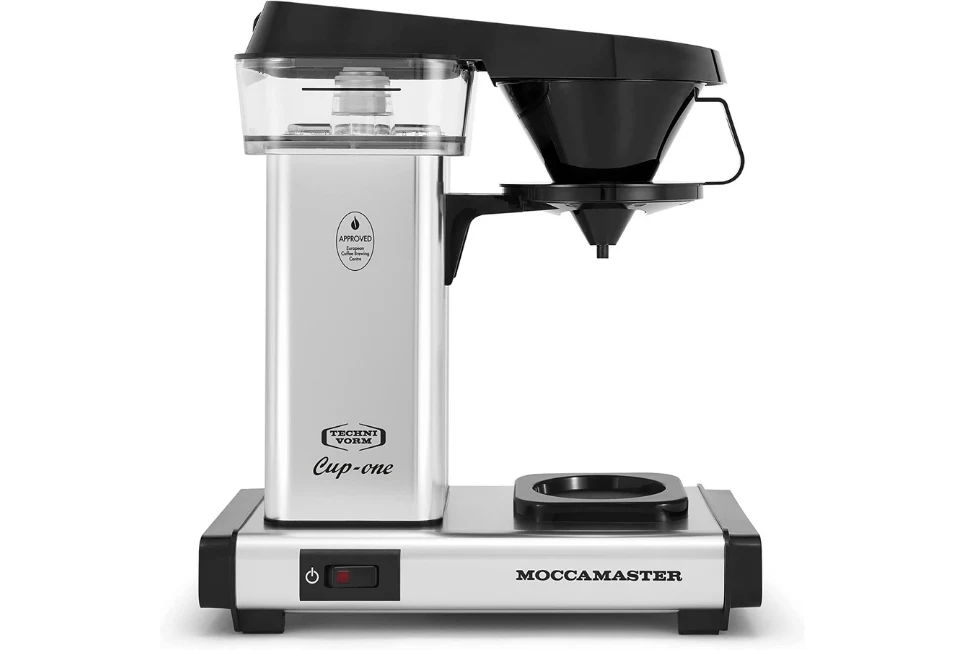 The Cup One is Moccamaster alternative to a single-cup coffee maker. While there are benefits to having a single-cup mechanism, it can also come with a lot of problems. And while the Moccamaster does solve a lot of the problems of pod-based mechanisms, it doesn't consistently transfer the method's convenience.
A single person can reliably expect easy brewing with a single-cup coffee maker. That being said, methods such as the Keurig and Nespresso allow for easy repetition when the brewer has guests. Unfortunately, the Cup One still uses drip-brew filters, meaning somebody with brunch guests is in for a lot of cleaning.
That being said, the Cup One delivers much better coffee than other single-cup methods. For delivering small-batch brewing that doesn't taste like it came from a Keurig, and reducing the environmental cost of pod-based brewing, this is a good choice for single people.
3.5/5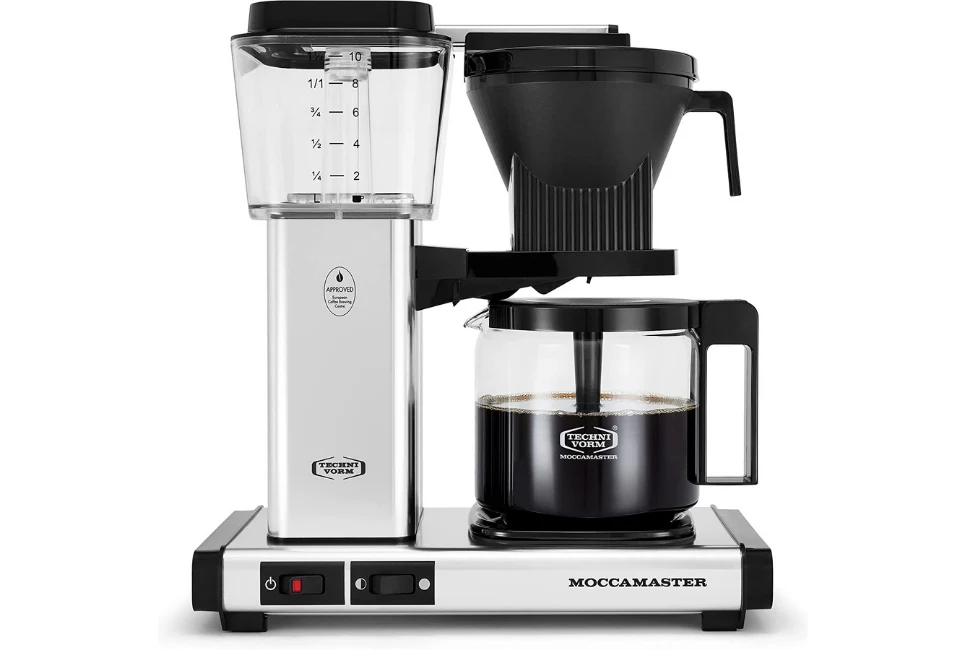 The 59616 KBG model comes with a 10-cup coffee pot, making it perfect for married people or those who can't have enough coffee in the morning. And with a hot plate element that keeps your coffee warm for 100-minutes, you'll be able to keep your daily pot enjoyable.
This model delivers a high-quality brew consistently. That being said, there are some downsides to making this choice.
Essentially, this model doesn't come with a lot of specific advantages. It seems to fit the baseline definition of a coffee pot thrown over the Moccamaster's inner workings. While that doesn't make it any less of a great choice, it doesn't represent an improvement over any other Moccamaster model. Still, I'd recommend this for traditionalist home baristas.
3/5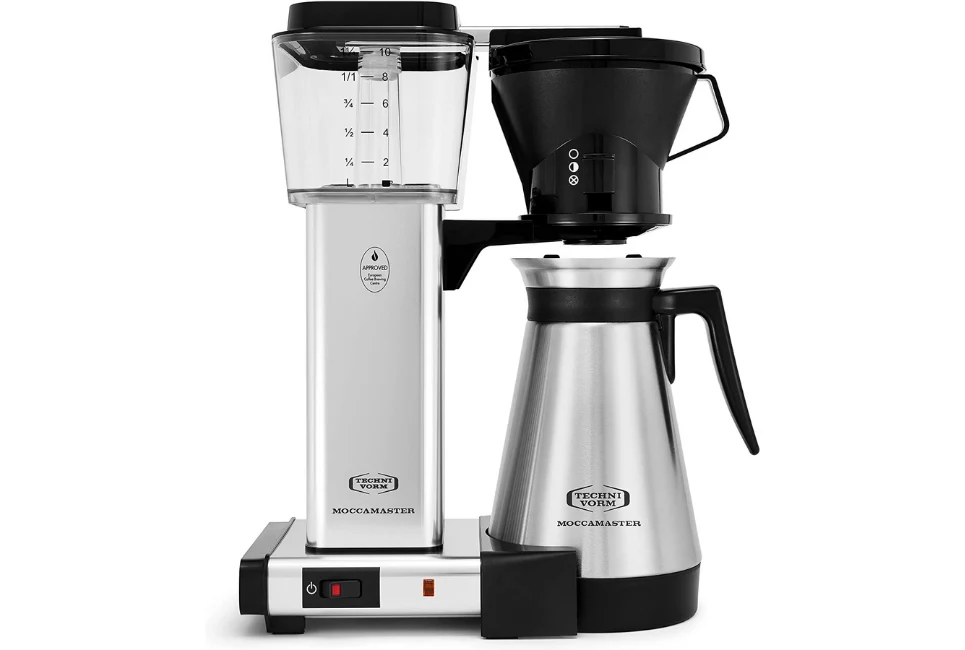 The 79312 KBGT is a great multi-cup coffee maker for anybody interested in heat maintenance and an attractive serving mechanism. The thought of bringing out the slender and elegant stainless steel carafe at a home brunch represents a perfect way to impress friends and family.
The benefits of this model's carafe aren't just aesthetic. It also creates a heat maintenance method superior to the hot plate.
That's because the stainless steel carafe is also thermal. It can keep your coffee warm for up to an hour. In addition, the heated carafe is a better warming method than the hot plate, avoiding the flavor damage caused by continuous heating from an outside source.
4.5/5
The Last Drop
If you want drip coffee that tastes great, the Moccamaster is the way to go. By offering a precise but easy method of brewing your coffee, it delivers unparalleled consistency and quality.
The Cup One is a great replacement for single-cup brewers, though you should be prepared to add clean-up time to your daily routine. The 59616 is a great choice for your first Moccamaster, but it doesn't have any unique special features.
That's why our top pick is the 79312 KBGT. On top of the usual features of the Moccamaster, it comes with a beautiful thermal carafe that's perfect for keeping your coffee hot.
A Moccamaster is a heavy investment, but you'll find an improvement over more widespread methods with any of these choices.