I don't know about you, but I need coffee to start my morning routine. I'm usually being tripped by our dog who is very eager to get outside. He's first, but coffee's a very close second. My first cup is always a cappuccino or latte.
Then when work calls, I need more coffee, but don't want to have to bounce back and forth between my office and the kitchen. A coffee carafe is the savvy coffee drinker's solution to that problem.
What's the difference between an insulated coffee mug, thermos and a carafe?
With an insulated coffee mug, you have a single-serving coffee that stays hot for hours. A thermos also keeps beverages hot or cold for hours and usually holds two or three cups of coffee.
A coffee carafe holds multiple cups making it suitable for all-day use, dispensing milk or cold beverages or keeping coffee hot for meetings or social gatherings. A carafe has a pour spout to make it easy to pour or dispense the beverage of choice.
From ease of cleaning to best price point, I've ruled out dozens to come up with my picks for the very best. If you're looking for the carafe that hits all the marks, you can't go wrong with the Pykal Thermal Coffee Carafe. That's my pick for the best overall. It keeps coffee hot for a full day, comes with a cleaning crush, and has a sleek design that suits any kitchen decor. Plus, it does hold quite a bit thanks to its 68-ounce capacity.
My Picks for the Best Coffee Carafes
*Click links to buy on Amazon or read full reviews below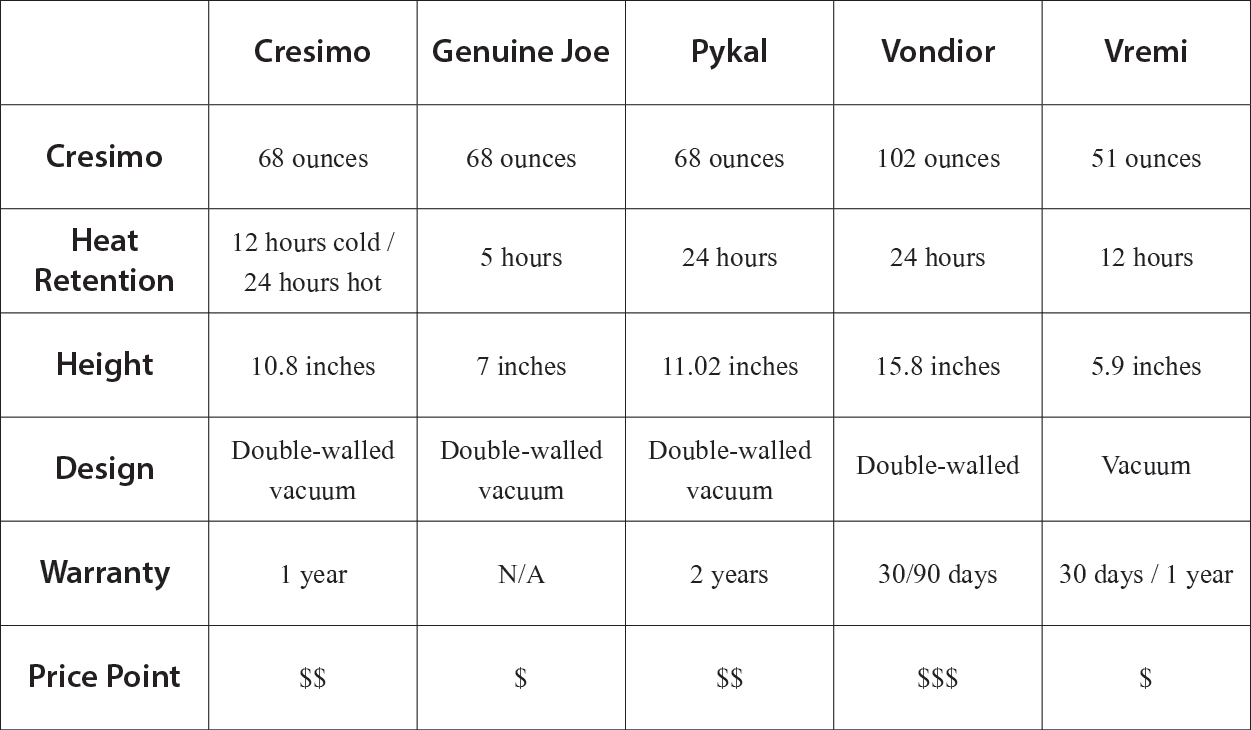 Coffee Carafe Considerations
Size isn't the only thing you need to look at when shopping for a coffee carafe. Sure, you want a carafe that holds all the coffee, tea, or cocoa you desire, but what good is it if the water goes cold in an hour or two?
You also need to stop and look at how much time you'll spend cleaning your carafe as coffee or tea stains set in. Here's a closer look at the things you need to consider when shopping for the best coffee carafe.
Construction and Materials
Coffee carafes maintain their heat with one or more heat-retaining methods: insulation or vacuum.
Insulation, also called double-walled insulation, uses two walls to retain heat. Hot liquid goes into the inner chamber. A second wall traps any escaping heat to keep liquids hotter longer. It also traps cold escaping from cold beverages in the same manner. The walls may be crafted from stainless steel, plastic, glass, or ceramic.
Vacuum insulation removes any air from the chamber to prevent loss of heat into open air above the coffee. Excess air is removed through the use of a pump system.
Many coffee carafes use a combination of double-walled insulation and vacuum insulation to keep beverages as hot or cold as possible.
Ease of Cleaning
The opening at the top of a carafe can make it difficult to clean. Wide mouths are easier to clean. They are also easier to fill with a hot or cold liquid. Narrow openings can help with heat retention, but they require a brush for thorough cleaning.
Stubborn stains don't have to end your relationship with your insulated coffee carafe. Put a scoop of Oxyclean in the bottom, fill it with hot water, and let it sit for 10 minutes. Stains come right out. If you have more time, a cup of white vinegar and hot water do the same, but they need to sit overnight to remove stubborn stains.
Features to Consider
Make sure the carafe you choose is easy to use. You need one hand to support a coffee cup while the other pours the hot coffee. There are two options for operation: button pushed with the thumb or disc at the top of the carafe that forces coffee through a downspout. Avoid carafes that require you to unscrew the lid in order to pour, unless you're okay with two-handed operation.
See what the carafe includes. Some come with a bottle brush to make it easier to clean. At the same time, look at the warranty. If the carafe cracks when hot liquid is added or fails to seal properly, you want to be able to exchange or return it.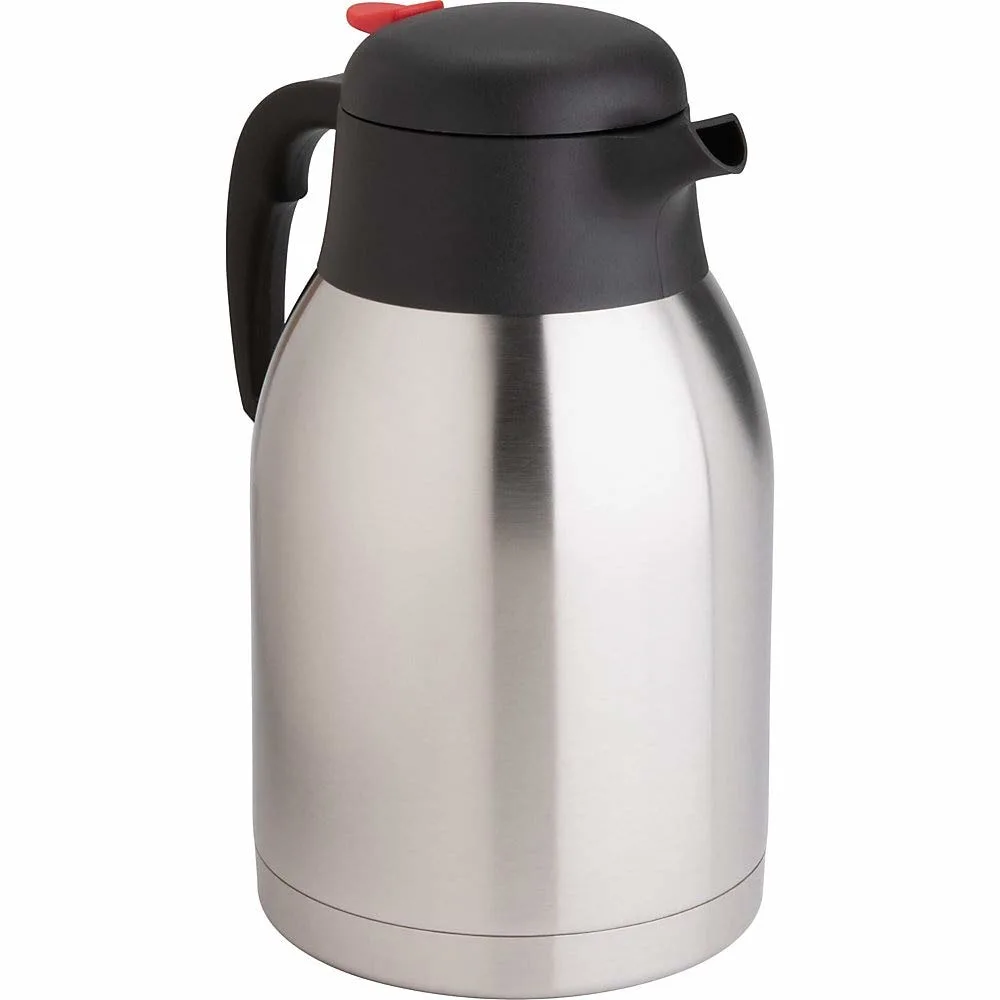 Genuine Joe's carafe is built for repeat use. At $5 to $15, you won't find a more durable carafe with this much capacity. While it doesn't keep beverages hot as long as its competitors, rinsing the interior with hot water prior to filling it will help keep your coffee hotter for longer.
Size: 68 ounces
Material: Stainless Steel with a plastic lid, pouring spout, and handle.
Insulation: Double-walled vacuum insulation keeps coffee hot for up to 5 hours.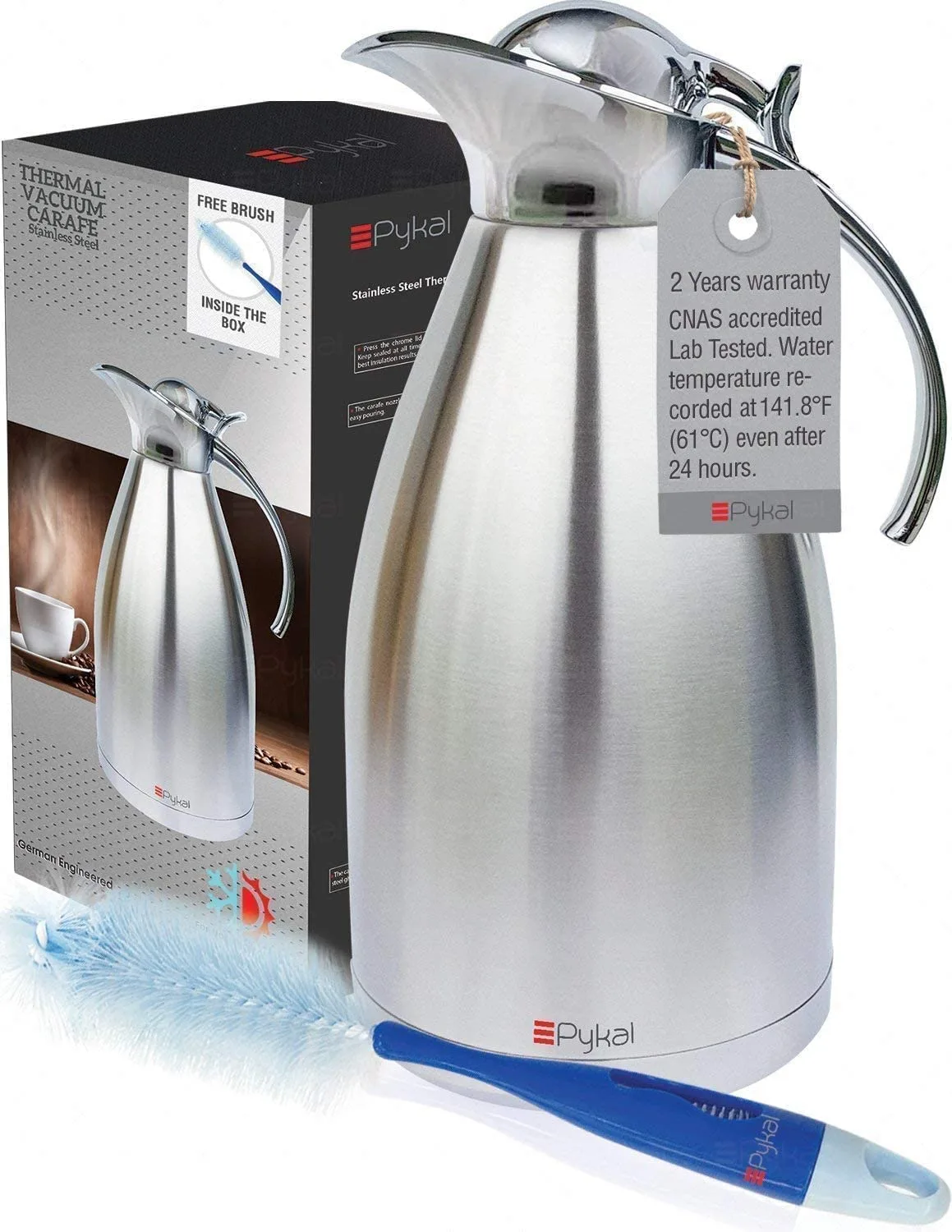 You want your hot beverage to be hot hours later. Get exactly what you want with the Pykal Thermal Coffee Carafe. The carafe is CNAS lab tested and found coffee at 141.8 degrees after 24 hours. Purchase from Amazon and get a free bottle brush included with the carafe. The Pykal costs $27 to $60
Size: 68 ounces
Material: Stainless steel
Insulation: Double-walled vacuum insulated keeps beverages hot and cold for 24 hours.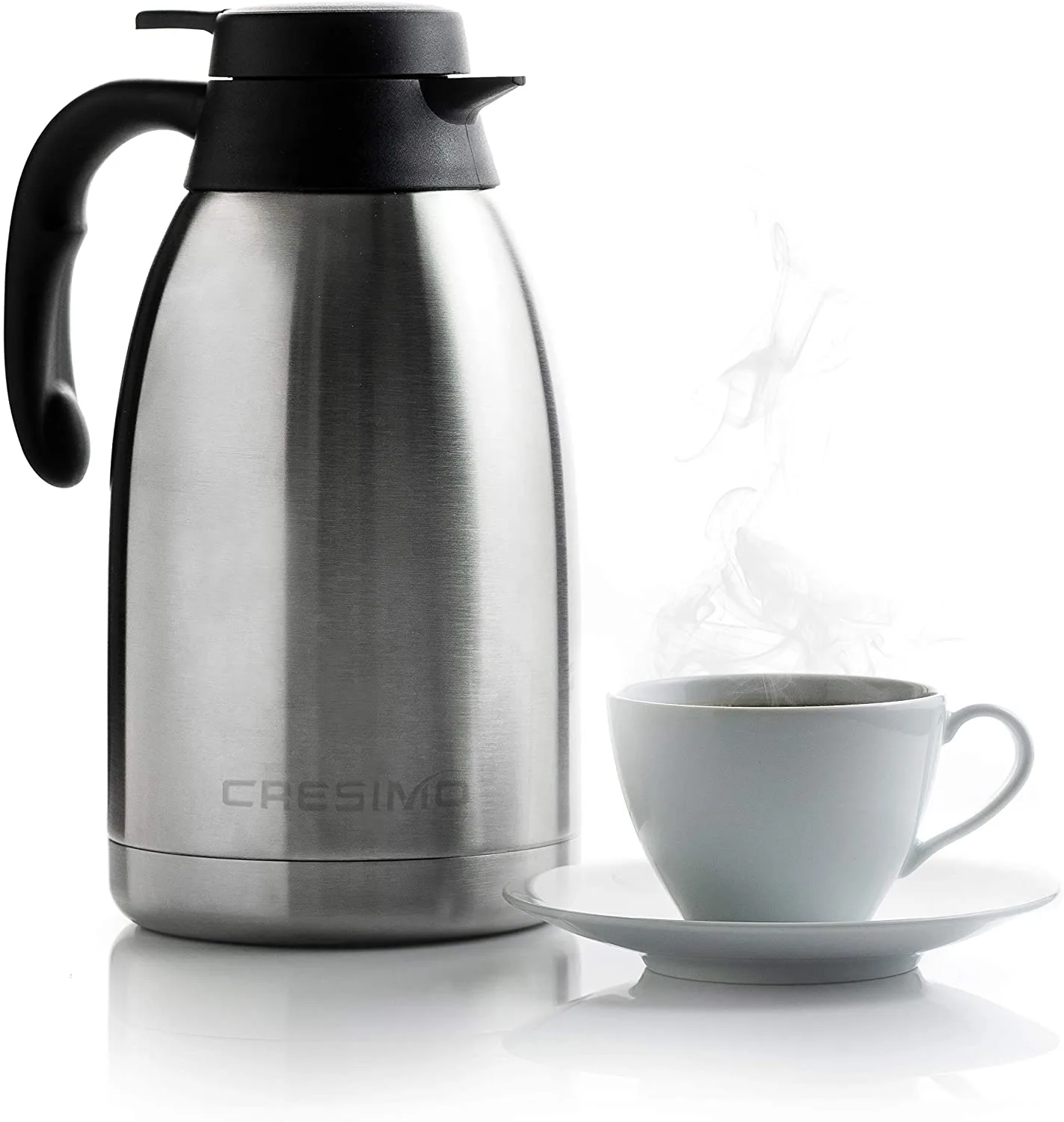 Narrow carafe openings make a carafe very hard to clean. If you want to avoid buying a brush or trying to cram your fingers into a tiny opening, the Cresimo Stainless Thermal Carafe is an excellent choice. It has a large mouth for easy cleaning. The carafe is designed to prevent condensation from forming on the outside or bottom when it's storing cold liquids. Expect to pay $26 to $40.
Size: 68 ounces
Material: Stainless steel interior and exterior with a plastic pouring spout, lid, and handle.
Insulation: Vacuum insulation keeps beverages cold for 24 hours and hot for 12 hours.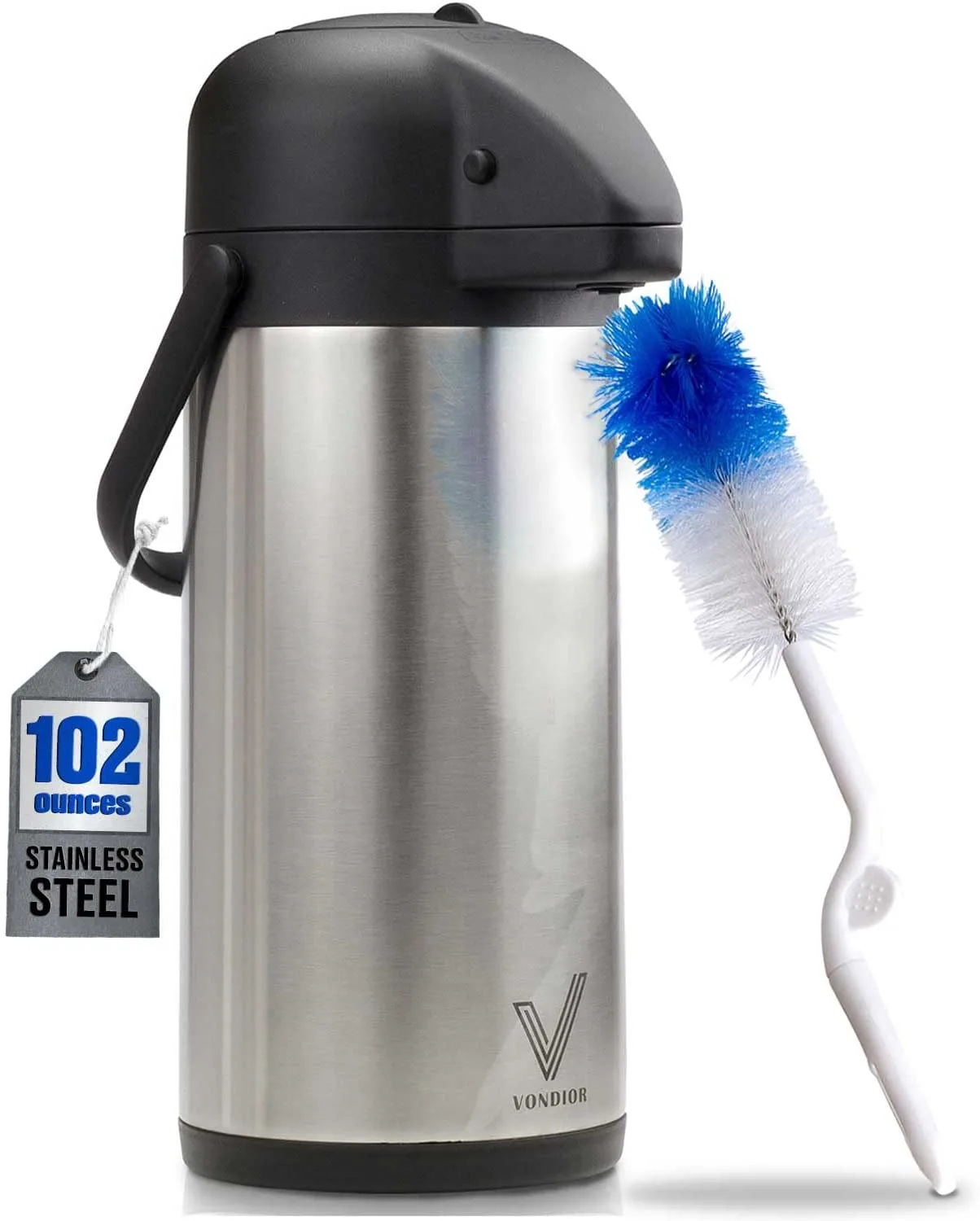 At $40 to $80, the Vondior Stainless Steel Air Pot has the highest price, but it's also the largest, which makes it ideal for an office. It holds 102 ounces of your favorite liquid in the shatter-proof dispenser. It keeps coffee hot for up to 24 hours.
Vondior comes with a cleaning brush. That's not the only plus. It has a swivel base. It dispenses easily as you press the round disk at the top of the lid.
Size: 102 ounces
Material: Stainless steel inside and out. BPA-free plastic lid, handle, and spout.
Insulation: Double-walled to keep beverages hot for 24 hours.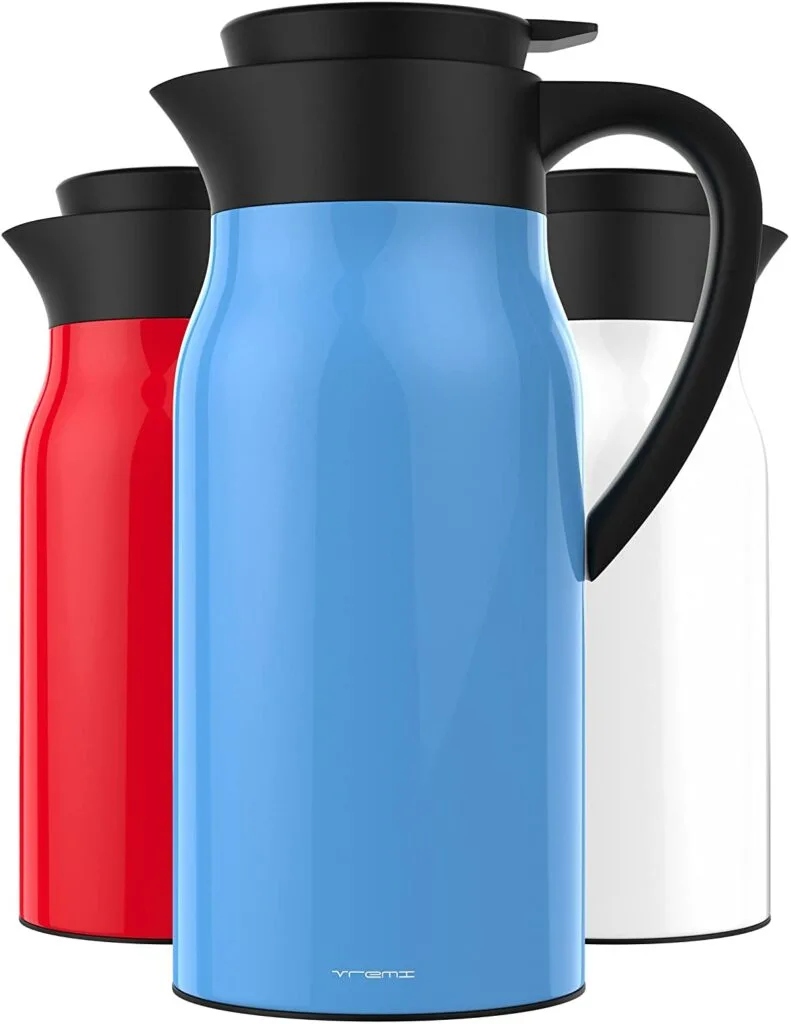 Thanks to a tight-fitting lid, the Vremi Coffee Carafe doesn't spill, even if you store it on its side. Its smaller size makes this a great choice for a couple cups of coffee/tea/cocoa or soup at lunch. It's compact and easily fits in a backpack, large purse, or briefcase.
Choose from three colors: Sky blue, red, and white. Return for a full refund within 30 days. Exchanges for defects are allowed for up to one year.
Size: 51 oz
Material: Food-grade BPA exterior and lid. Stainless steel interior.
Insulation: Vacuum insulated keeps drinks hot or cold for 12 hours.
Related: Ultimate Keurig Buying Guide: Discover the Best K Cup Coffee Maker, How to Make Delicious Cold Brew Coffee at Home