Take your favorite coffee shop drinks and make them at home. Wake up to a caramel macchiato. Chill with an iced coffee. Wow your friends with homemade lattes at your next book club. That's the experience delivered by the Starbucks Verismo System.
There's another reason to buy a coffee machine. How does saving hundreds every year sound?
Break it down. You stop at Starbucks daily during the workweek and buy a $3 beverage. USA Today took a look at average yearly cost of going to Starbucks. If you're only buying coffee five days a week, you're spending approximately $800 a year. Buy the Verismo V Brewer and the machine pays for itself in a matter of months.
If you're addicted to your daily caramel macchiato or want your coffee in seconds rather than minutes, the Verisimo V is a solid choice. If you're interested in saving money, however, and willing to explore other options, Keurig and Nespresso are also solid contenders.
Let's take a closer look at how these single cup coffee makers actually stack up.
The History of the Starbucks Verismo
Starbucks has a long history in the coffee industry. The first store opened in Seattle in 1971. After the director of retail operations traveled to Italy in 1983, he envisioned bringing Italian coffeehouses to the U.S.
The first Starbucks coffeehouse opened a year later in Seattle and started serving Starbucks Caffe Latte. By 2015, the company had more than 22,500 coffeehouses around the world, and those coffeehouses offered a range of coffee and tea beverages.
The Verismo came out in 2012. This was Starbucks' entry into single-serve coffeemakers, and the competition to Green Mountain Coffee Roaster's Keurig machine. There have been four models sold over the years. They include: Verismo 580, 583, 600, and V. The Verismo V System replaces the other models, though you can still find some of the discontinued models in online retailers.
Verismo V System Review and Design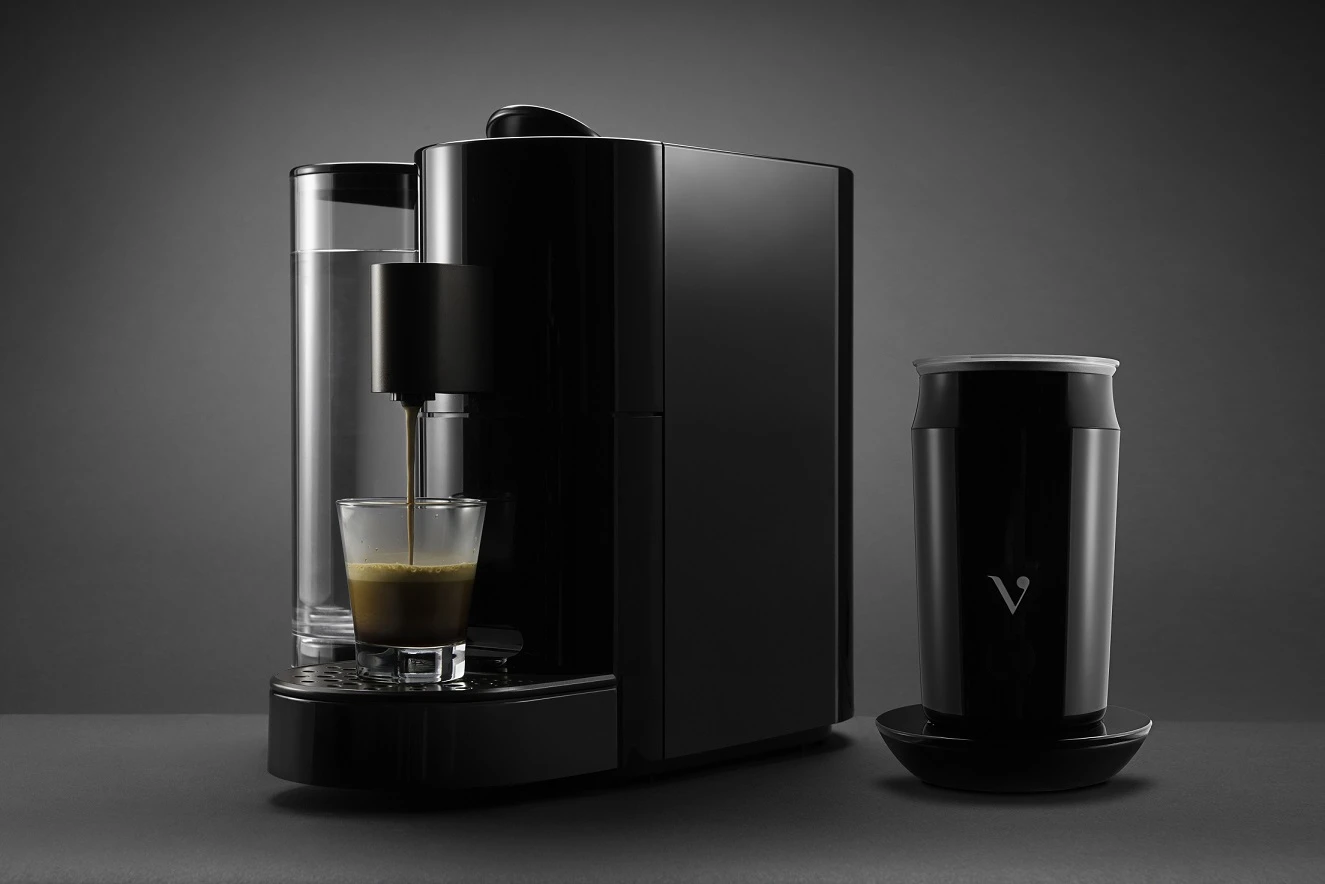 Starbucks' Verismo V System is pretty similar in form and function to a Keurig or Nespresso machine. Turn it on, wait for the water to heat, put in your coffee pod/K-cup/capsule, and brew.
The removable water tank holds 2.3 liters. Its compact size doesn't take a lot of room on your counter. It's just 7.6 inches wide, 12.9 inches deep, and 11 inches high.
It's also pretty light at 7.7 pounds when drained of all water. That's one area where it stands out. While there's always some water in the internal chamber of a Keurig, you're able to completely drain the Verismo in between uses.
At the top of the brewing system is a handle that lifts up. Here, you insert a Starbucks coffee pod.
Next to the pod holder are your brewing options:
Brew
Espresso
Hot Water
Rinse
Milk
On/Off
Speed is a Key Point of the Verismo
Start by pressing on/off and wait 15 seconds. That's how fast the water in the internal chamber heats up. It's fast. Compare it to Keurig machines that take up to a minute before your coffee's ready.
The machine does need four rinse cycles before your first use and after each cup of coffee or espresso. Add your pod to the chamber and securely seal the chamber by lowering the handle.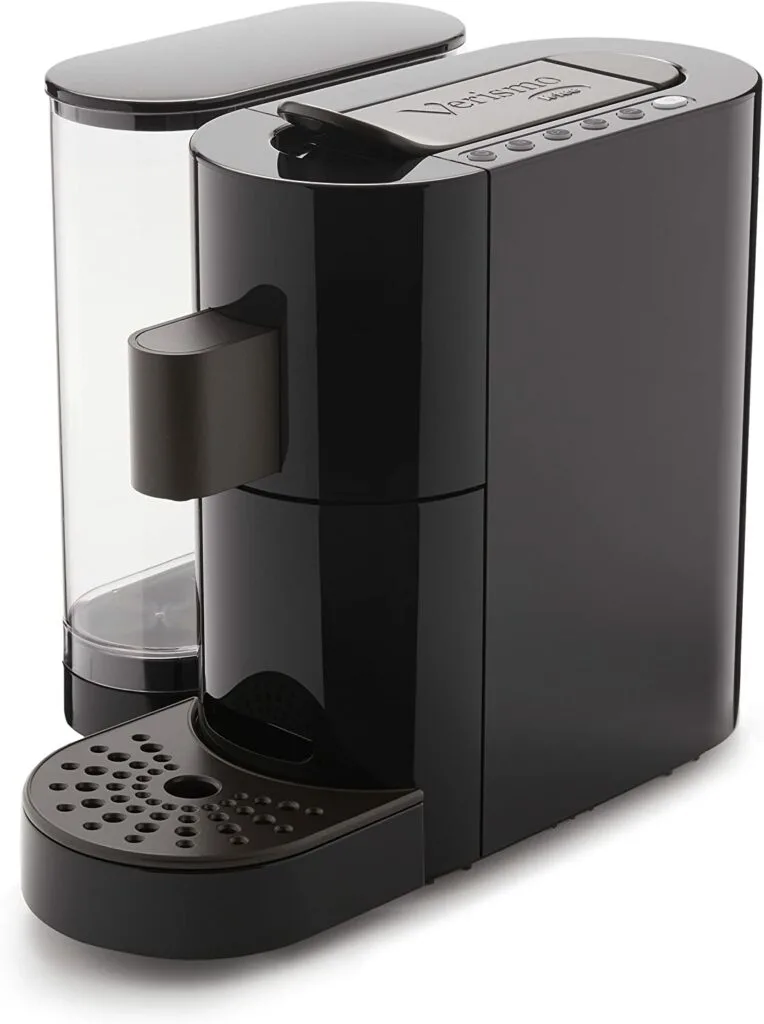 Choose the beverage you want to make. Press the corresponding button, and the beverage brews. For Verismo systems that come with the frother, the electric frother heats milk and uses a whisk to create foamy milk while your coffee brews. If you're having an iced latte or macchiato, turn the heater off and make cold foam.
For Verismo systems that don't come with a frother, it's still possible to make lattes and some specialty drinks. Before brewing your espresso, place a milk pod into the Verismo machine and press the milk button. The machine uses hot water to create milk from the dry milk powder in the pod. Brew the espresso directly onto the milk. Check out the Starbucks Verismo recipe book for ideas.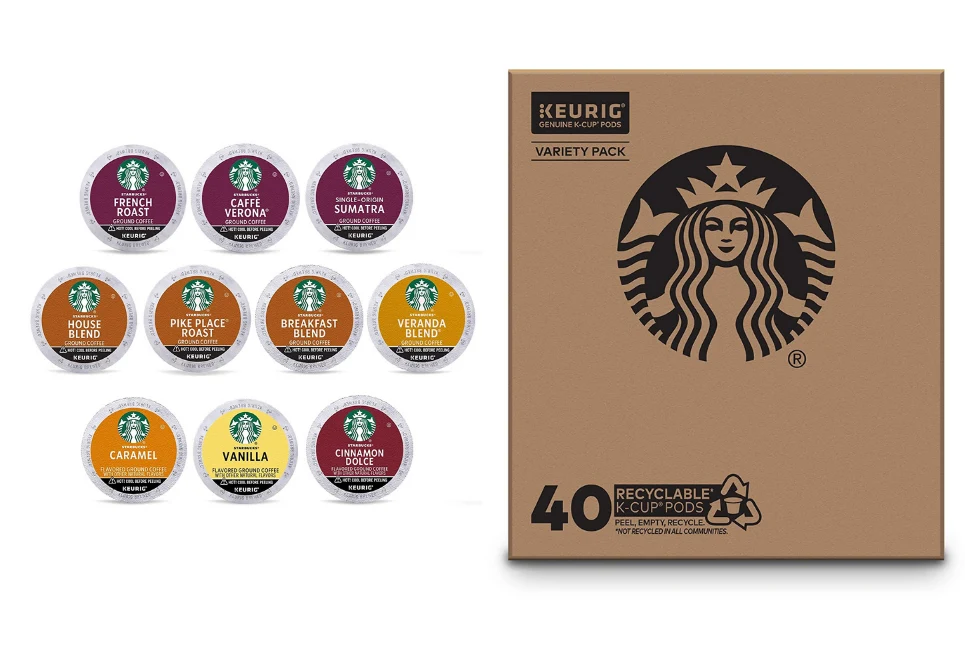 Starbucks coffee pods use quality Arabica beans. Options include:
Caffe Latte
Columbia Narino Espresso
Decaf Espresso
Decaf Pike Place
Guatemala Antigua Espresso
Kenya Espresso
Masala Chai
Milk Verismo
Pike Place
Changes to The V System
With the Verismo V System, Starbucks added an electric milk frother to the brewing system if purchased from their site.
Not every store or online retailer includes the frother, however. You can make milk using milk pods, but only whole milk powder is available. You may need to purchase a frother separately if you want to froth skim, low-fat, or non-dairy milk.
The new machine shifted from a 7-ounce brew to a 10-ounce coffee. The espresso setting brews 1 ounce, while a latte with the milk pod makes a 6-ounce drink. While prior models required a rinse cycle after every drink, you only need to rinse after a milk pod with the V.
Verismo Pros
The speed of the Starbucks' Verismo V impresses. At just 15 seconds, it beats both the Nespresso and Keurig. You have coffee in your hand without much of a wait. Even if you decide to brew a milk pod, you'll still have your beverage in 30 seconds.
For those who simply hate waiting, this machine is ideal.
While many single-serve coffee makers have the drip tray at a set point, the Verismo has several height options. Lower it for a tall cup or raise it for a short mug.
The Cons
The Verismo V's mid-range price may be more than coffee drinkers want to spend. Expect to pay $150 to $200 for this machine. This puts it higher than the Keurig, but it is more affordable than some Nespresso machines.
While it may fit into your budget, you must consider the cost of the pods. Prices range from $10 for a dozen pods to $70 for a 72-count box. The Keurig K-cups are far cheaper. Plus, there are reusable K-cups available.
Starbucks does not have a reusable pod available. It's possible to purchase a package of foil lids for $10 to $20 and then refill a used pod, but that's currently the only option.
Tips for Getting the Most Bang for Your Buck
Check carefully to see if the milk frother is included with your Verismo V System. You can purchase one separately, but you'll pay $30 to $100, depending on the brand. Epica's highly-rated electric frother costs $40 to $50. If you want the Starbucks brand, plan to pay $80 to $100.
Verismo vs Other Single-Serve Coffee Machines?
Ranging in price from $50 to $200, the Keurig has the largest selection of coffees in their K-cups. It's also possible to put your favorite coffee in a reusable K-cup and save even more money.
Nespresso has a higher price point at $160 to $250. The capsules, however, are affordable at $25 for a 30-count package to $70 for 100.
The bottom line comes down to price point and variety of coffee. If you love Starbucks coffee and frequently order from your local Starbucks, you'll save a lot of cash making your own Starbucks beverages at home. The speed alone makes this a solid contender in single-serve coffee machines.
Related: Ultimate Keurig Buying Guide: Discover the Best K Cup Coffee Maker