A decade ago, my aunt and uncle sold their house and furnishings and bought a motorhome. They drive from country to country enjoying the sites and making new friends along the way. They pick a destination and then stay there for weeks if not months. Sounds like a dream come true, right?
One of the things they found hardest about traveling was finding the best coffee maker for a motorhome. They simply can't give up their passion for a hot cup of coffee. Buying a cup from the local corner store gets expensive every day. They wanted the ability to make coffee when traveling.
Things they looked at were performance, cost, size, and versatility. They've done a lot for me, including a trip to London that I'll never forget, so I offered to help out. I jotted their must-haves down and researched and tested many models. Here are the five RV-friendly coffee makers I came up with.
For the best overall, buy the Black & Decker 5-Cup Coffee Maker. It's easy to use, compact, and brews a great cup for a fantastic price.
My Favorite Coffee Makers for a Motorhome
*Click Links to Buy on Amazon or read full reviews below
| | Black & Decker | Chulux | Coleman | Nespresso | Osaka |
| --- | --- | --- | --- | --- | --- |
| Warranty | 2-yr limited | 1 yr | 1-yr limited | 1 yr | 1 yr |
| Size | 7.2 x 9.8 x 10.8 inches | 11.2 x 9.8 x 5.5 inches | 12.1 x 10.1 x 15.7 in | 12.6 x 4.7 x 9 inches | 5.2 x 5.2 x 10 in |
| Power Source | Electricity | Electricity | Burner | Electricity | n/a |
| Cost | $ | $$ | $$ | $$$ | $$ |
| Brew Type | Ground beans | Pods | Ground beans | Pods | Ground beans |
RV Coffee Maker Considerations
The best RV coffee maker depends on your needs. I had a checklist to get me started. It's advisable to create a list of your must-haves, too. To get there, ask yourself these questions.
What Are Your Coffee Preferences?
Does a regular cup of joe keep you happy, or do you need a latte to get you started? Are you a one-and-done coffee drinker or are two or three cups needed to wake you up?
Many coffee makers make a plain pot of coffee. If that's not good enough, you'll need to turn your eyes to a more advanced machine for specialty coffee beverages.
Coffee makers for recreational vehicles are often much smaller than their counterparts. Many of them make enough coffee for one or two cups. If one cup is not enough, size may really matter. If you do brew more than one cup, you may want to invest in a coffee carafe to keep your coffee hot all day.
How Much Kitchen Space Are You Working With?
Motorhomes come in a variety of sizes. Models start with the compact class B and C and progress to the bus-size class A. Due to the fluctuations in RV size, some models lack storage and counterspace. Others feel like a kitchen you'd find in a home. Storage and counter size impacts how big a coffee maker you want while traveling.
A smaller class B or class C RV won't have much space for cooking and storage. Class B's 22-foot Winnebago Paseo has enough kitchen space for a small fridge, a two-burner range, and a small flip-up counter. The Coachmen Concord Class C is larger at 32 feet. This model adds more counter space and a third burner. Both have a limited amount of cabinets for pots, pans, and small appliances.
Class A motorhomes often have more space. Many are the size of buses. The Fleetwood Bounder ranges in size from 33.5 to just over 37 feet. Unlike class B or C recreational vehicles, the Bounder has solid countertops, multiple cupboards for storage, and a recessed three-burner stovetop. Some models add a full pantry.
How Do You Use It?
You have two options with an RV coffee maker. One style plugs into the nearest outlet. The other requires a burner. If your motorhome has plenty of outlets near the counter, an electrical model works well for most needs. Some recreational vehicles don't have many outlets. If that's the case, a stovetop coffee maker is ideal.
How Easy is it to Clean?
Conserving water is important in a motorhome. Sinks may be smaller, too, which makes it hard to clean larger items. Ease of cleaning is one factor that buyers cannot overlook when shopping for a coffee maker. If it's too large for the sink or requires a lot of scrubbing, keeping it clean can become more hassle than it's worth.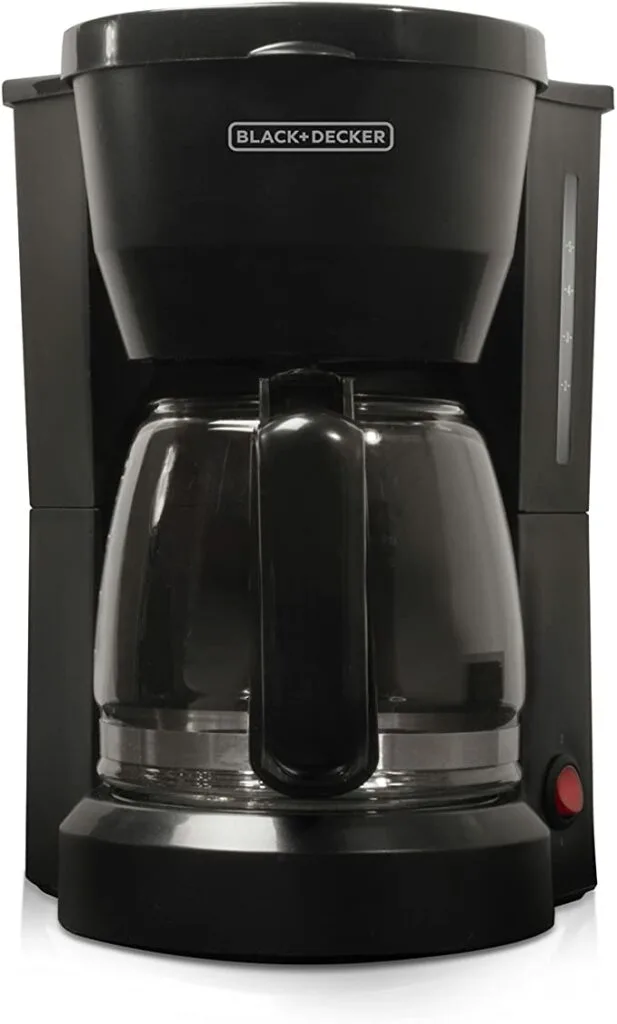 In addition to being my budget pick, the Black & Decker 5-Cup Coffee Maker is my choice for the best overall. At $16 to $22, this unit makes up to five cups at a time for very little money. It's easy to use. Fill the water chamber, put grounds in a coffee filter, and turn it on. At 9.75 x 7.25 x 10.75 inches, the coffee maker doesn't take up much space.
To clean the Black & Decker, users should run a mix of water and vinegar through the coffee maker every couple of weeks. After one cycle of cleaning, a second run of water will remove any of the vinegar from the coffee maker's tubes and water chamber.
Pros
Built-in warming plate keeps coffee hot for an hour.
Power cord retracts into the machine for easier storage.
Two-year limited warranty
Cons
Does not have automatic shut-off.
The coffee maker must finish brewing before you can pour a cup.
Coffee filters are not included.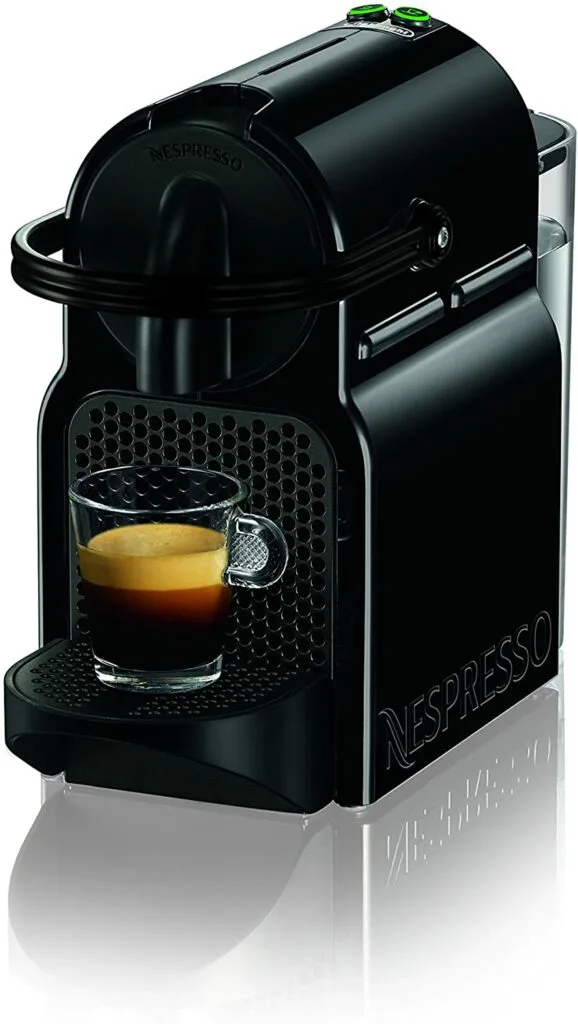 Start your morning off with a latte or cappuccino using the Nespresso Inissia., this is a more expensive model, but you get coffee shop quality drinks in under a minute. The water tank holds 24 ounces, so you can get a few cups of coffee without having to refill it.
To use the machine, you turn it on, place a capsule in the holder, and then push the appropriate brewing button: espresso (small) or lungo (large). The coffee brews in seconds thanks to the high pressure brewing system. To clean it, run water through the system for a cycle or two. All Nespresso Inissia coffee makers bought through Amazon come with a 16-capsule sample pack.
Pros
Makes specialty beverages.
Takes 30 seconds to heat up.
Power-saver mode shuts machine down after 9 minutes pass without use.
Cons
The machine only works with Nespresso capsules.
It is a much higher price point.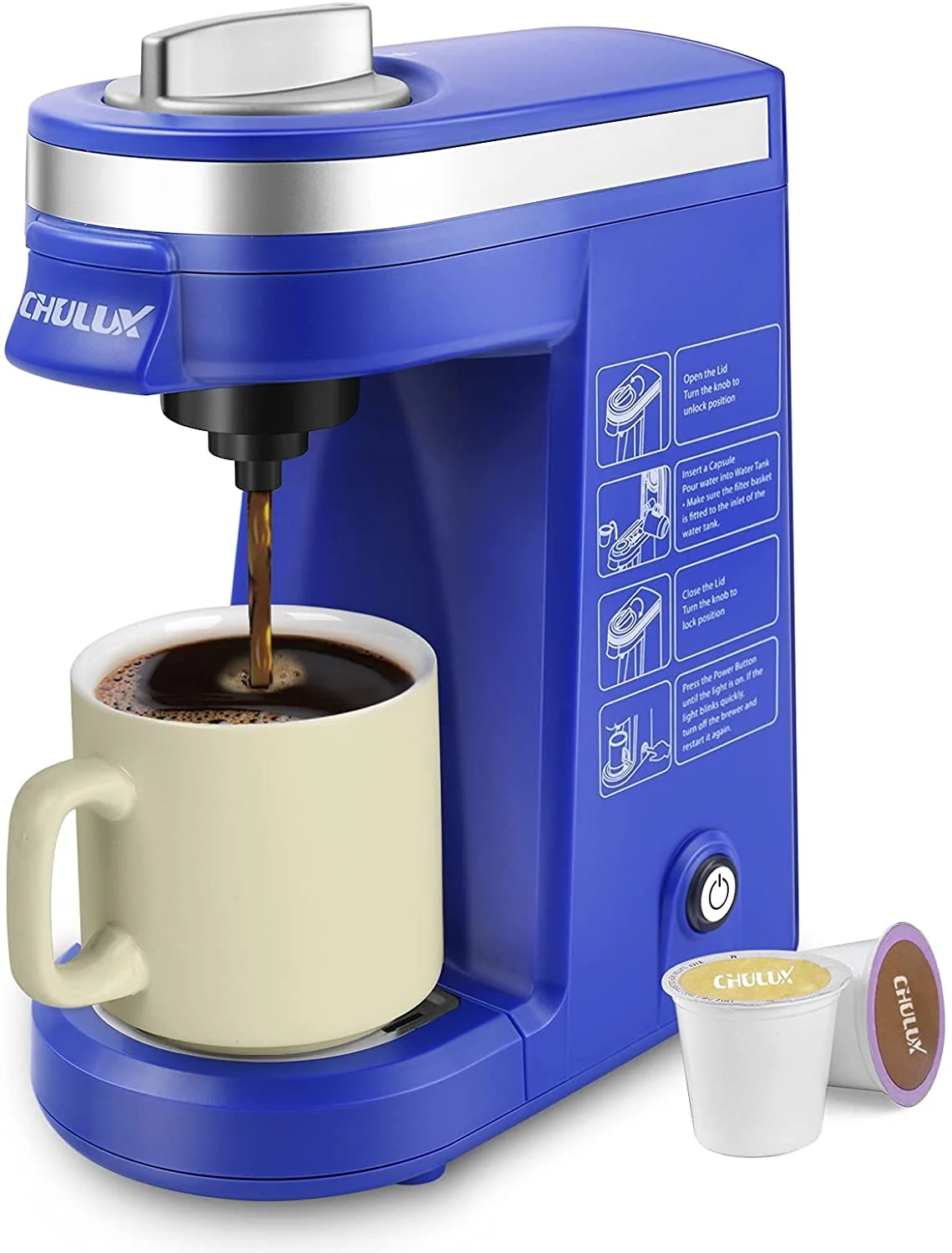 Chulux designed its coffee machine to be ideal for easy cleaning and easy use. Fill the water chamber, put the pod in place, and hit the button. You can use any Keurig K-cup or a generic pod in this machine. It also fits the reusable pods, which are recommended if you want to save money.
When you need to clean it, run a cup of water with a tablespoon of vinegar through the coffee machine. Repeat with plain water. That's all it takes. The drip tray and water tank detach for thorough cleaning. While it's not a budget model, it's worth the extra cost due to the ability to clean it with ease.
Pros
Accepts any brand of K-cup including reusable pods.
Adjustable drip tray prevents splashing in a shorter coffee cup.
Plastic is BPA-free.
Cons
It makes one cup at a time.
Manufacturer recommends using filtered or bottled water.
Included filter basket needs to be secured to the water tank inlet or grounds can get into the water supply.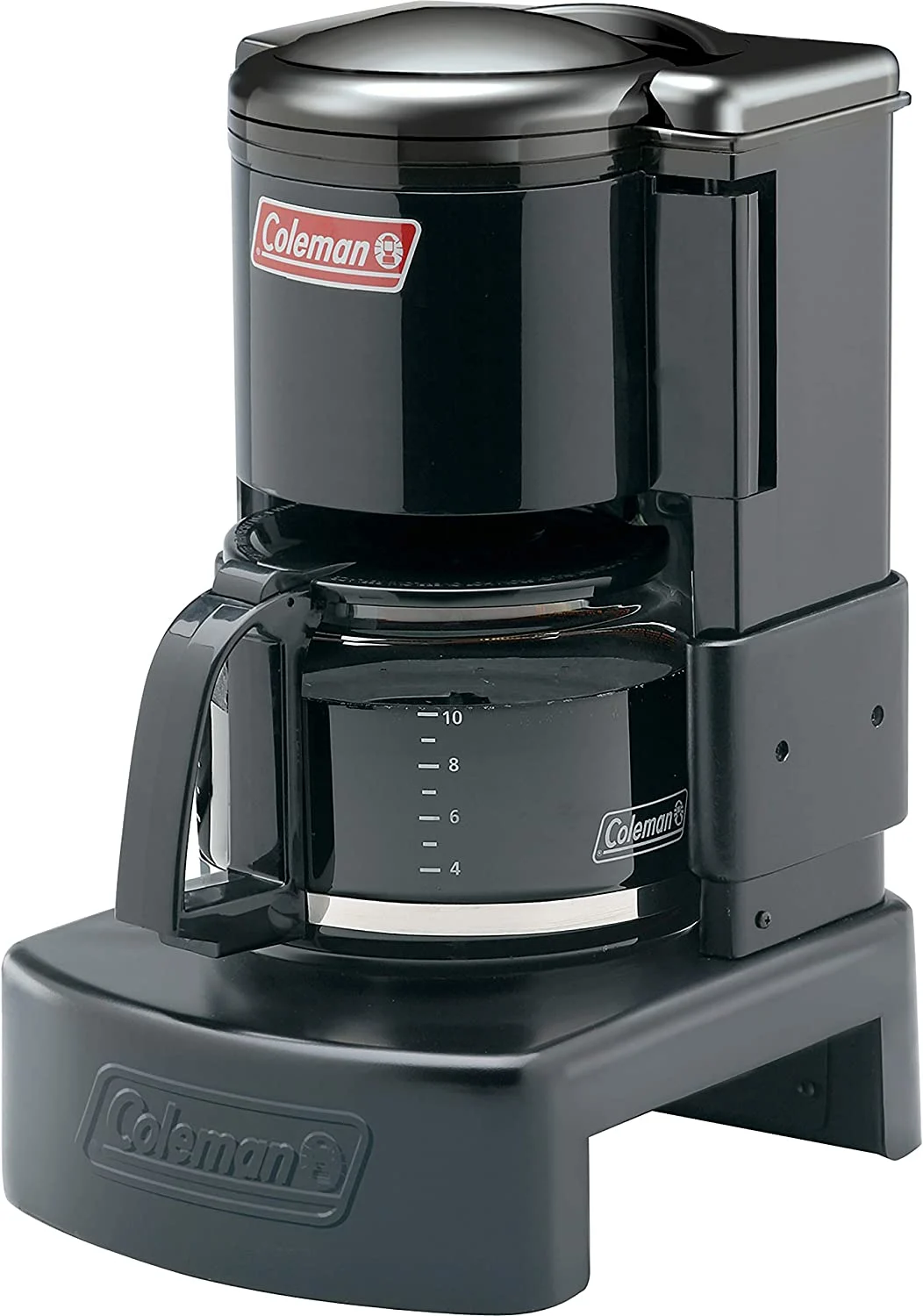 The Coleman Camping Coffee Maker doesn't need electricity. It brews a pot of coffee using a gas stove burner. Fill the water reservoir, put grounds into the coffee filter basket, and place the unit on the stove burner. As the water heats up, it is propelled into the basket where it mixes with the grounds and drips into the coffee pot.
It does take longer to brew the full pot, and it makes a full 10-cup pot so it's ideal for a family traveling together. The pause-and-serve feature allows you to pour a cup while it's still brewing.
In parks where electricity hook-ups cost significant amounts of money, it's a much better solution. It's crafted from durable stainless steel and is easily hand washed. All you need is a gas burner, and this durable little champ brews coffee with ease.
Pros
Makes 10 cups of coffee.
Built to be durable.
Eliminates the need to have electricity available.
Cons
Need to buy coffee filters.
Takes a little getting used to when using it the first time.
Takes 10 minutes to brew the coffee.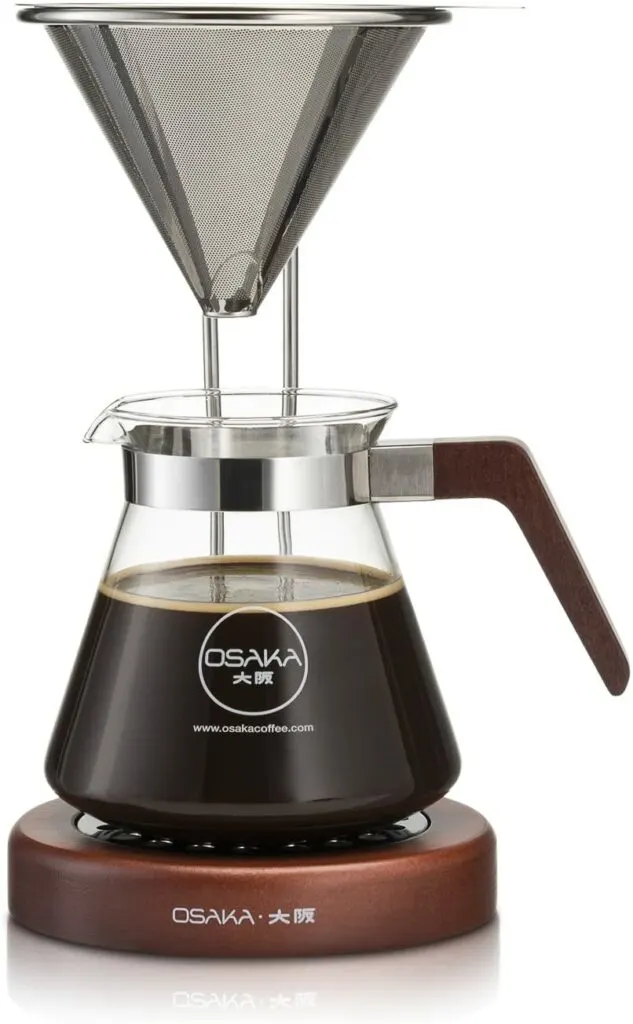 At five inches wide and deep, you won't find a smaller coffee maker than the Osaka Pour Over. It doesn't require electricity. Skip using propane and heat water on a campfire outside if you're really feeling frugal. Put the coffee carafe on the non-slip base. Place the stainless steel basket in the holder over the carafe and fill with ground coffee. Slowly pour boiling water over the grounds.
It takes a little over a minute for every five ounces of water to work its way through the beans and into the carafe. When you're done, you have as much coffee as you need. Make one cup or make up to four cups in this easy-to-use coffee dripper. The stainless steel and borosilicate glass design will last decades.
Pros
All you need is boiling water.
The compact size takes up little space.
It's built to last.
Cons
Coffee does not stay hot for long.
Takes a while to brew a full pot.