To make a quality cup of coffee, experts agree on a few things. Whole beans are a must. Once a coffee bean is broken up and exposed to air, it starts losing its freshness. Ground coffee sits on a store shelf for days, weeks, or even months before you buy it. It's going to lead to a less-than-fresh cup of java.
Whole beans haven't been broken up and exposed to the air. If you want qualify coffee, you want to grind it right before you brew it. With a grind and brew coffee maker, beans are ground seconds before the coffee brews. Plus, one appliance doing double-duty in the kitchen means more counter space.
We took a look at the best coffee makers with grinders. Of all the grind and brew machines we tested, here are our favorites with full reviews found below. If you're looking for our personal favorite, check out the Krups KM785D.
Our Picks for the Best Coffee Makers With Built-in Grinders
| | Capacity | Grinder Type | Carafe Type | Warranty | Price | Buy Now at Amazon |
| --- | --- | --- | --- | --- | --- | --- |
| Krups KM785D | 10 cups | Burr | Glass | Limited | $$ | Buy Now |
| Black and Decker Mill and Brew | 12 cups | Blade | Glass | Limited 2 year | $ | Buy Now |
| Cuisinart DGB-650BC | 10 cups | Blade | Thermal | Limited 3 year | $$ | Buy Now |
| Cuisinart DGB-550BK | 12 cups | Blade | Glass | Limited 3 year | $ | Buy Now |
| Melitta MEMB1B | 10 cups | Blade | Glass | Limited | $$$ | Buy Now |
Grind and Brew Coffee Maker Considerations
A grind and brew coffee maker is an all-in-one machine. You fill the water chamber, place the beans in the sealed container, turn it on, choose the proper settings, and brew your coffee. There are things you want to consider, however. Many machines have special features that you may or may not need.
Decide Which Features are Necessary
Do you want the ability to set up your coffee maker the night before? If you like waking up to the smell of a fresh pot of coffee, a built-in timer is a must.
How about your grind? Do you drink a standard cup of coffee or do you occasionally like to mix things up and have a latte? You'll need a grind and brew machine that allows you to set the coarseness of the coffee beans.
What about strength? Do you like your coffee to be strong and in your face or milder and more subtle? Look for a machine that has settings that allow you to control the intensity of the brew.
Do you return to your pot all day for a top up? A thermal carafe or pot warmer are must-haves. You can keep your pot warm for longer and avoid brewing multiple pots of coffee to get you through the day.
Blade vs. Burr Grinders
Coffee grinders are one of two types: blade and burr. Burr is best, but it can be more expensive. Here's why burr is ideal for a great cup of coffee.
A blade grinder uses a metal blade that spins around when you push a button on the grinder. That blade chops up whole beans. It often leads to uneven grounds. Some pieces will be bigger than others. Coffee experts say this leads to inconsistent quality. If you hold the button down rather than chop the beans in even pulses, the friction can heat the beans and release some of the aromatic oils before you brew the coffee.
A burr grinder works by grinding beans between two conical or flat rings that stack on top of each other within the appliance. These rings taper in size from large to small. As the beans pass through the grinding stages, the size breaks down evenly so that the pieces can pass through the next size. This creates a consistent grind. Flat rings may trap some of the beans, so there's often a little bit of waste. When possible, aim for a conical burr grinder.
Are There Special Cleaning or Usage Instructions?
It's often recommended that you use filtered water and not tap water. This is to prevent clogs formed by build-up. Some coffee makers with built-in grinders come with filters you replace to ensure the water used to make coffee is as pure as possible. If your tap water is less than tasty, your coffee will likely suffer as well, so keep this in mind when deciding on a drip coffee maker. The Cuisinart's 650BC Grind-and-Brew Automatic has a charcoal filter system.
If you ever make coffee with pre-ground beans, you'll need a grind and brew coffee maker that allows you to turn the grinder off as needed. Otherwise, any ground coffee you're given or purchased will get wasted. We've only included models that allow you to turn the grinder off.
There are coffee makers that allow you to take it apart for easy cleaning. Others require special equipment like brushes or even a vacuum nozzle to clean out stuck grounds from the grinder. You should pay close attention to this when narrowing your list.
Individual Built-in Grinder Coffee Maker Reviews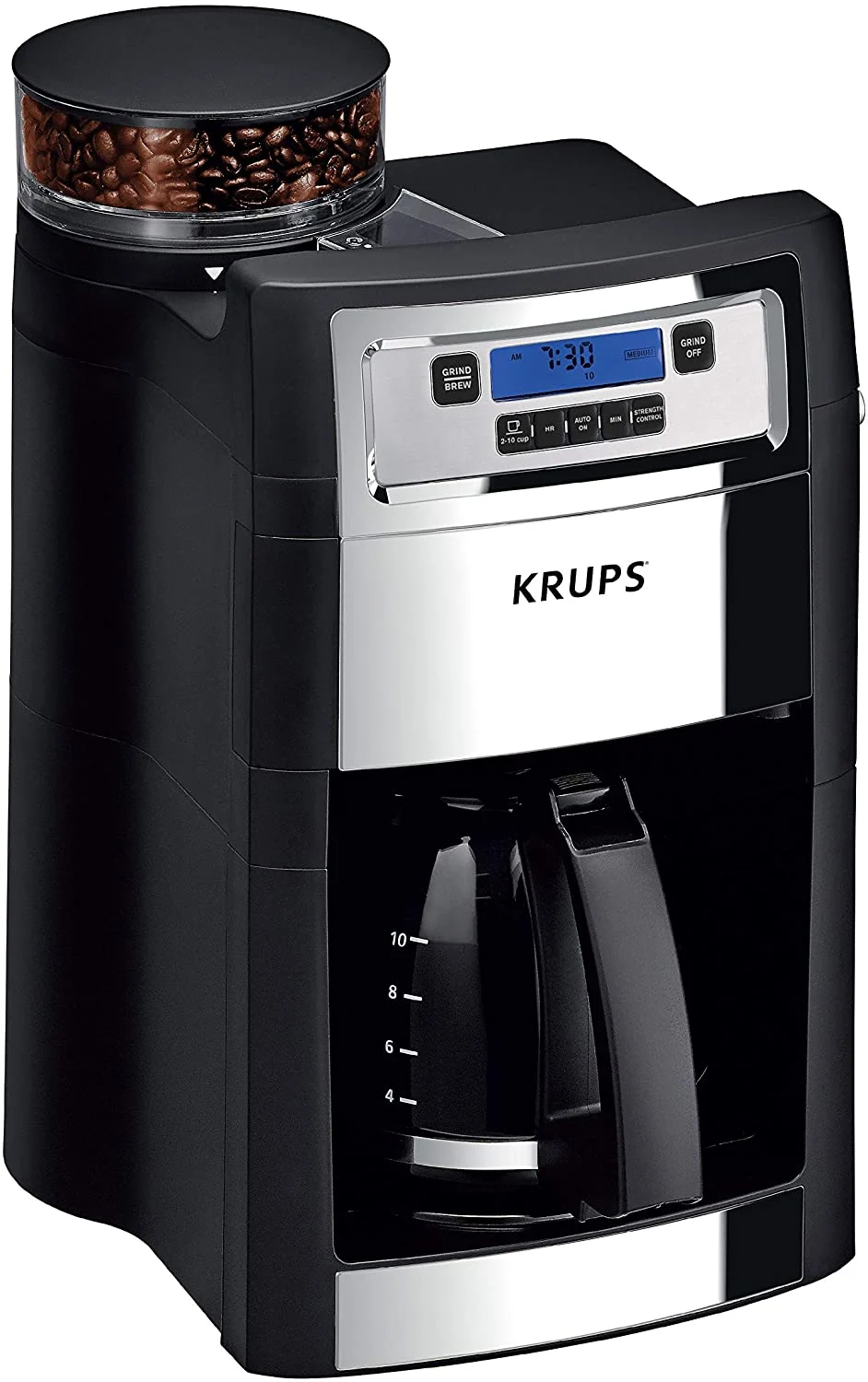 When it comes to hitting all the marks, Krups wins. It's easy to use, relatively easy to clean, and creates a perfect cup of java every time. Set it up to start automatically, and the warming tray keeps your coffee warm for two hours. The conical burr grinder has five coarseness settings. You can turn the grinder off to use ground coffee.
Pros
Choose from mild, medium, or strong brew settings.
Make a full pot or 2 to 10 cups.
Includes reusable gold filter.
Cons
Takes a little longer than normal to make a full pot.
Grinder is loud.
Decent warranty coverage costs extra.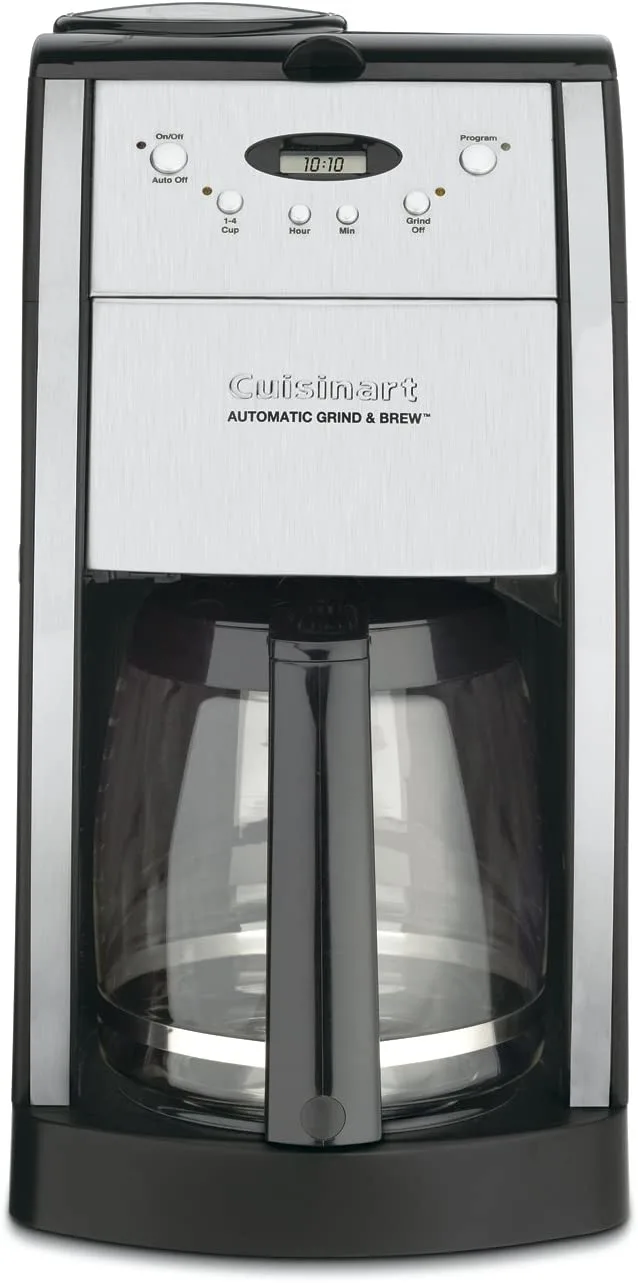 When money's tight, the Cuisinart 550K Automatic Coffee Maker/Grinder is a good choice. It brews a consistently solid cup of java for the price and offers a few special features. Safety features keep the machine from brewing when covers are not closed. Automatic shut-off covers you if you leave for work and forget to turn the machine off.
Pros
Setting allows you to make 1 – 4 cups instead of a full pot.
Programmable settings cover a 24-hour span.
Has a large 12-cup ergonomic glass carafe.
Cons
Takes a while to brew.
Grinder is very loud.
Blade system isn't effective at grinding all the coffee beans.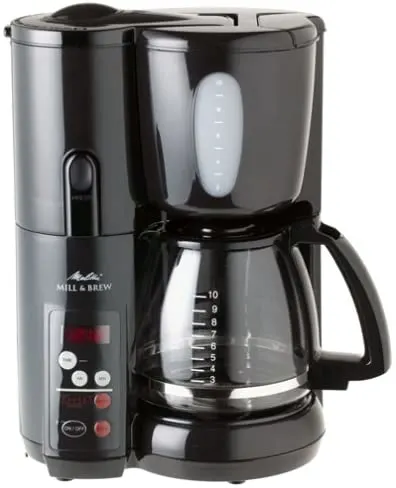 Melitta is a solid name when it comes to coffee makers. This grind and brew coffee machine is no different. It's one of the easiest to use. Plus, it delivers consistent quality with each pot.
Pros
Stainless steel filter basket cleans easily.
Grinder has seven coarseness settings.
Can set it up to brew up to 24 hours later.
Cons
Automatic shutoff turns off the warming pad an hour after brewing a pot.
Grinder lid will break if any force is used when closing it.
Lacks strength settings.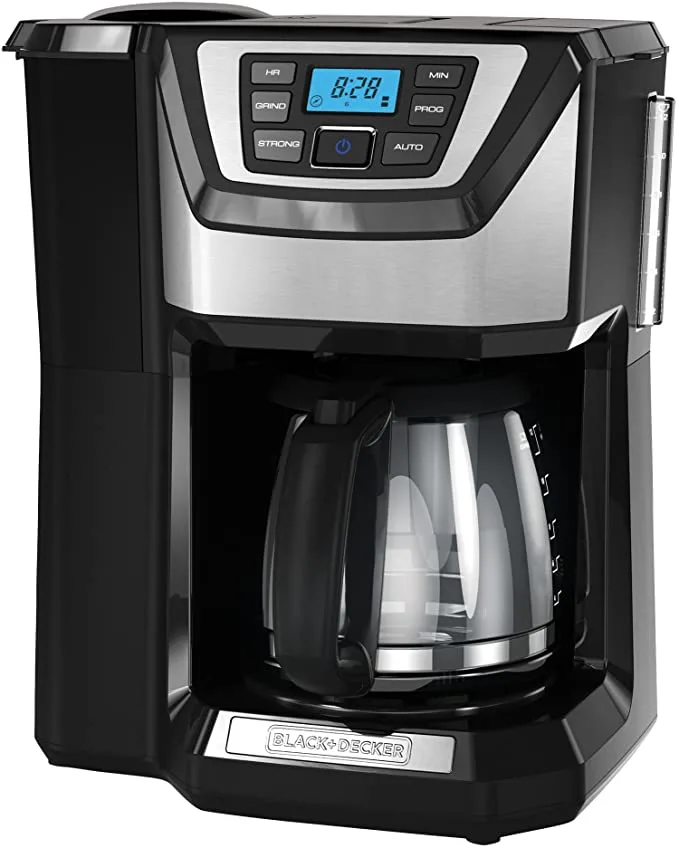 When you want fresh coffee without a lot of time spent cleaning up afterward, the Black + Decker Mill & Brew is a winner. It's one of the easiest coffee makers to clean, so your time is spent sipping your java and not fussing around in the kitchen.
Pros
Select from three brew strength settings.
Programming available for up to 24 hours in advance.
Grinder basket is completely removable for easy cleaning and is dishwasher safe.
Cons
Lacks the ability to choose the grind size.
Paint on buttons wears off with excessive use.
Power button has to be hit twice before it will brew coffee.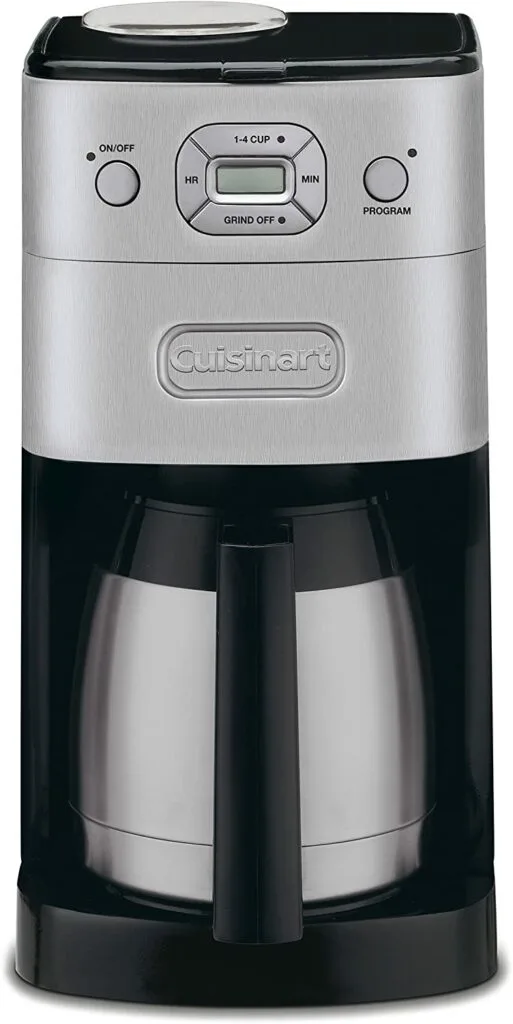 If you drink more two or more cups a day, you want a coffee maker with a built-in grinder that withstands heavy use. Cuisinart's 650BC Grind-and-Brew Automatic is ideal for multiple cups. It contains a thermal coffee pot to keep coffee hotter for longer. That's just the start.
Pros
Built-in charcoal water filter makes sure water is free of odors and sediment.
Separate 1 – 4 cup setting for individual cups.
Includes a limited three-year warranty.
Cons
Blade grinder is not as consistent with an even grind.
Grinder is loud.
Carafe opening is narrow and makes it harder to clean.
Related: 7 Top Coffee Beans to Make the Best Espresso at Home